---
Doggie Day Care w/ Pick up & Drop off.
---
Includes Full Transportation, Training & Socialization. 12 Dog Spot Doggie Daycare.
Neighborhood Pet Care (NPC) Doggie Daycare Service includes Pick up & Drop off, Obidience & Behavioral Traininng & Complete Socialization! We have a brand new location and new, just constructed facility. Our previous location (3 miles away) consisted of a large addition onto our home that made up our indoor area,  we now have a nearly 400sq ft newly constructed building with built in A.C. built in wall Doggie Door leading out to our over 3x's larger outdoor, professionally & completely fenced in outdoor dog park. We drive right in and out for Pick up & Drop off saftey! We do a snack time indoors ( food diet/allergy aware) water always available inside & out. 3 expericenced & Certified Dog Trainers (CDT) on site, we let our dogs run and play free in a completely controlled outdoor and indoor area with a supervised, engaging and teaching Staff. We have an industry shattering 6 to 1 max, Dog to Staff ratio (20 to 1 industry avg.) Starting at 3 day a week attendence, we guarantee Obidience & Behavioral training and complete Socialization. (Min 2day a week commitment). If your Dog needs to get that energy out, needs companionship and play, needs exercise, needs training or all to any combination, you found the perfect place! If your Dog(s) doesn't get very excited when we show to pick him/her/them up, after just 2 weeks (10 days) with NPC, then you will receive a complete refund! However, in 12 years we are proud & blessed to say we have not been asked for a refund!
All dogs accepted, Doggie Daycare, Boarding or Private Training must be up to date on & records provided for, vaccinations: Rabies, Distempter & Bordetella (Kennel Cough) along with Veterinarian Strength Flea & Tick Preventative.
WE SEND WRITTEN, PIC AND VIDEO UPDATES! We want you to see the fun your Dogs are having! Security Camera's inside & out for company use and liability purposes. We do not discriminate on breed. Aggressive Assement done at Meet n Greet. Please Call or text for spot availability/ schedule a Meet n Greet. Starting rates below.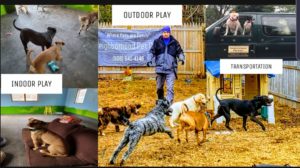 Our rates start at $55 a day for 2 (same) days a week commitment ($110 a week.   3day a week commitment $50 a day ($150 a week) 4 daya a week $45 a day ($180) 5 days a week $40 a day ($200 a week) 2nd dog in family? Additional $10 per day only! Furtger discounts may be applied to Rehoboth Pet Parents & some Pet Parents of  boarding towns. Radius and route based.
Award Winning Service: As if They're Our Own Boarding
Our Award Winning Boarding Service is based on our belief that dogs shouldn't be shoved in caged kennels. The reason it's called "As if They're Our Own Boarding" is because since 2008, we book 2 Dogs (3max if compatible) at a time to stay in our in home (Doggie Daycare included but optional) and we Care for them as if they were our own Dogs! We eat, sleep and play together. We send pictures and videos to all Pet Parents via: email or text, so you know exactly what your dog is doing and the fun he or she is having! 93% of all Boarding Dogs/Cats have become repeat boarding Pets! There is just no other, humane and fun way to board your Dog(s). Neighborhood Pet Care, recently featured in Power House Media's "Best Things in Mass Magazine" and popular website bestthingsma.com, TOP 10 Best Kennels in Massachusetts list, at #4! Serving Mass & RI. Our rate is $60 a day/night. We Board Cats as well ($35 a day/night) We fill up fast so call or text for availability and to set up a Meet n Greet today! (508) 641-4146.
Profesional Grooming – Pick Up/Drop Off Included!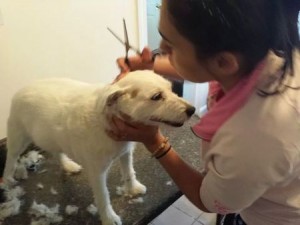 From renowned Stylist Paul Mitchell's high end Pet shampoo and conditioner line. Our Professional and experienced stylists offer your Dog/Cat full-service Grooming. Cuts w/ Brush outs, Bathing, Professional Strength Blow Dry Outs personally done not hooked to caged Pet. Call for pricing. Nails, teeth, ears, eyes cleaning along with anal gland extractions included in every package! Weekend service and Transportation Included! Call for package Pricing and booking! (508) 239 – 5627
GROOMING TEMPORARILY CLOSED
Walks, Feedings and Drop ins at Your Home.
When you can't be home and need someone to stop in and feed/relieve your pets, or you just want a leash walk. YARD CLEAN UPS ALSO AVAILABLE for the spring time or any time of year 1 time, occasional or maintenance. Give us a call or text @ (508) 641-4146 or (508) 239 – 5627
Good Dog, Professional Dog Training
Obedience at its best. We have the best professional and experienced trainers that train your dogs in all aspects and levels of obedience. Please call about our one on one, very affordable, 16-week Behavior/Obedience class. 1 on 1
We accept cash, check's and all major credit/debit cards! CALL FOR A FREE "MEET N GREET" TODAY! INSURED/BONDED Minimum 5 references offered!
Call us or text us if you prefer @ (508) 641-4146